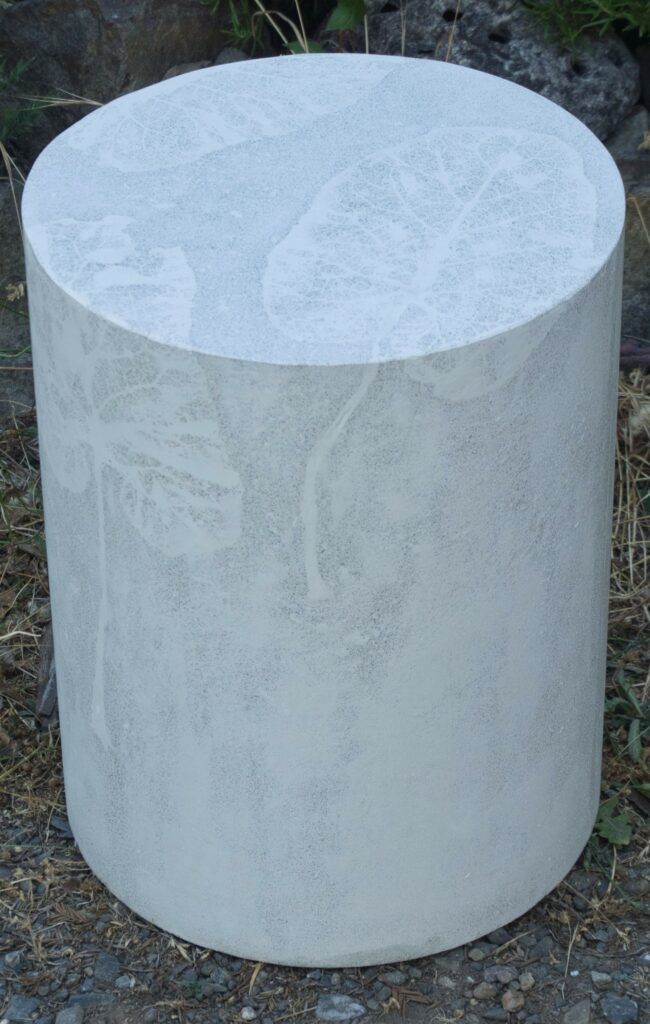 I can achieve almost any color in concrete with a variety of integral pigments, including blues and greens. Colors are UV stable, though color persists best with regular applications of sealer if concrete is subject to large amounts of sun and weather.
When placing an order, you may consider several aspects of color that will influence the final look:
Base Color
Base Grout Color(s)
Leaf Grout Color(s)
The Base Color is the primary color of the whole piece. Because I handpack the concrete (as opposed to spraying), there will be "pinholes" in the surface that I fill with grout (cement). This Base Grout Color is often slightly different from the Base Color to offer extra depth to the table. It can be the same as the Base Color for a more solid look, however.
If ordering a piece with a botanical design, consider how the leaf might be colored with Leaf Grout Colors. Like the base, I grout the leaf impressions to give them a smoother and more dramatic look. The grout emphasizes the vein patterns. I often use three colors in the fill to give the leaf a mottled look, often emphasizing the larger veins with a darker color, and the more delicate veins with two lighter colors.
Color Matching
I can do general color matching from Sherwin Williams or Benjamin Moore color swatches, or from a picture. Note that concrete is not paint, and absolutely exact color matching is challenging. Concrete has a non-uniform look by nature, so even the best color matching will result in a piece that is not 100% that color. Moreover, numerous variables, including variations in the color of bagged cement, the weather, variations in screens or cameras, and curing of concrete further complicate color matching. I usually create several samples for myself to ensure the best color match.
Sometimes I work with transparent sealer color stains to achieve an extra depth of color. I do not use acid stains in the interest of my health and safety and concerns about environmental disposal. Acid stains produce rich and beautiful marbling of brown and copper tones, but the aesthetic benefits do not outweigh other concerns.
There are great opportunities with color and unusual combinations. Concrete is actually fairly uncommon in its color versatility (exceeded only really by paint, ceramic and plastic), despite its reputation as a grey, bland material. I encourage you to be ambitious with your color concepts. I do not charge extra for colored concrete (despite pigment being expensive) because, well, I don't want to discourage it. Inquire for pictures of a variety of colors.
Color Samples
I can ship three color samples for free. I charge $10 a sample after the third one.