Memory Benches & Other Wordy Options
We now offer memory benches or other impressions of words on any of our pieces. They work particularly well on square or rectangular pieces like our Skye bench, Square End Tables, or Sophie chairs, though words may flow across the curved contours of our Pliny tables as well.
The letters can be filled or unfilled and of any content, such as names, poetry, dates, and so on. Letters may have slight positional variations.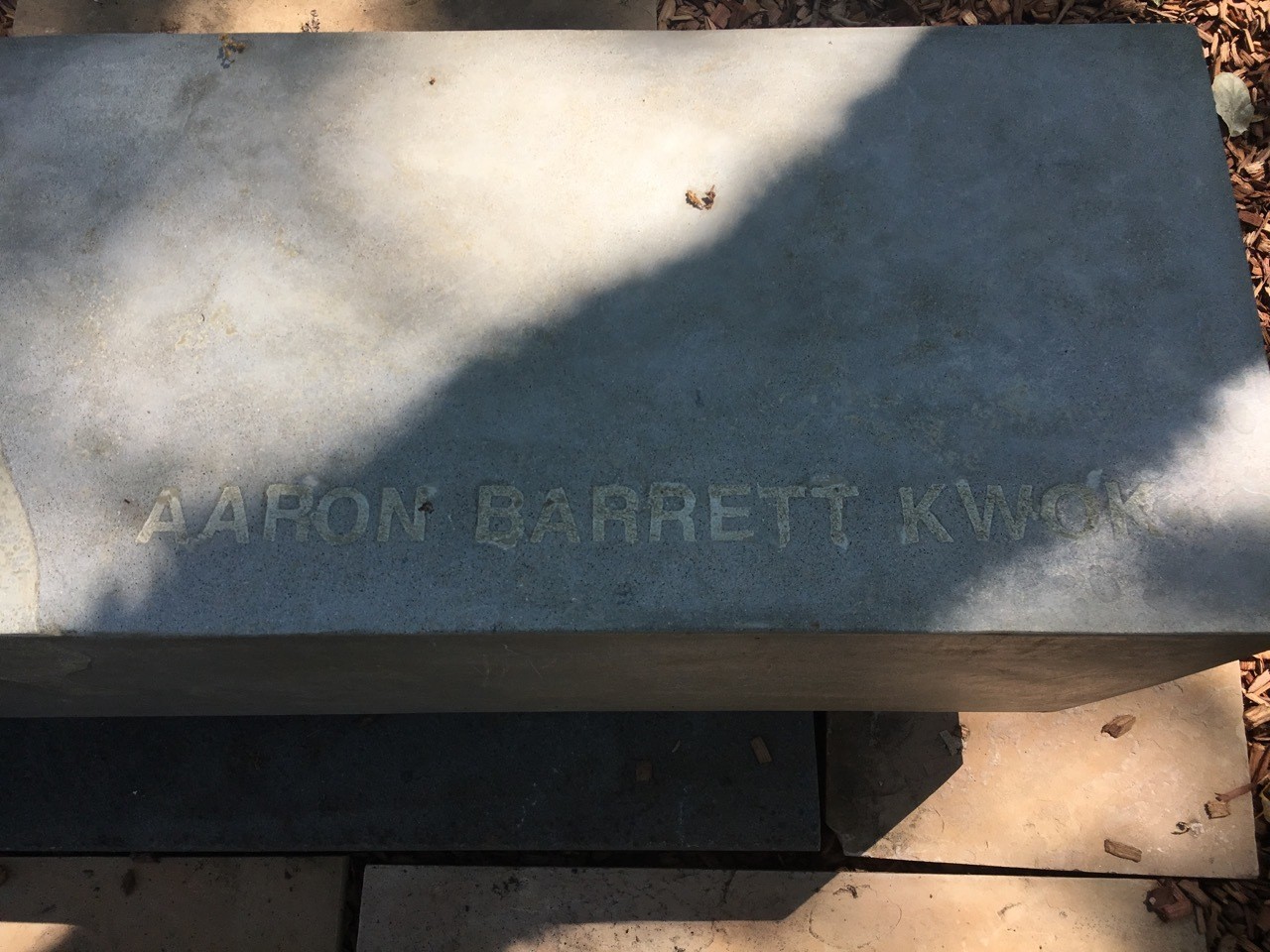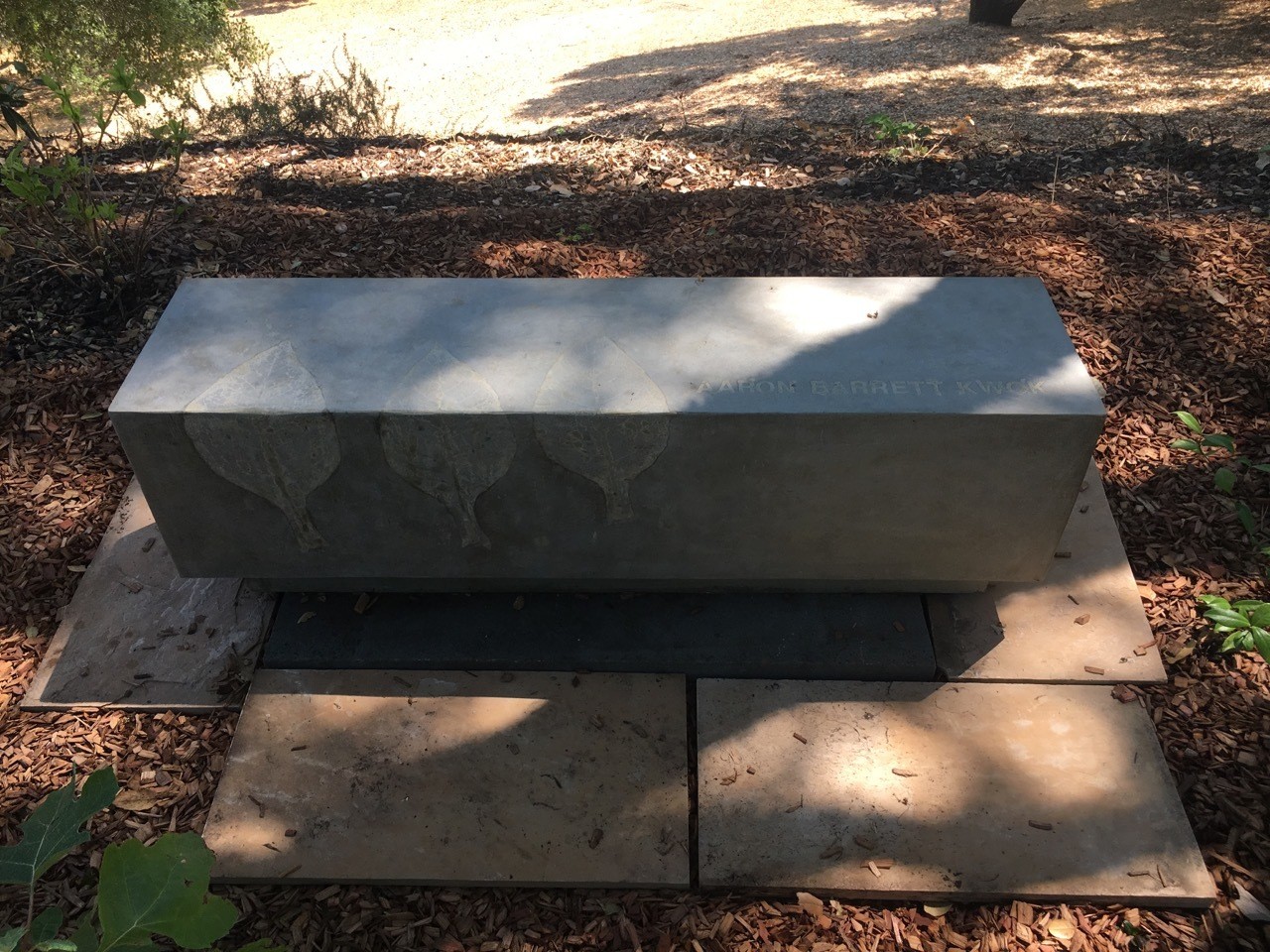 The Inspiration of Messiness
As smooth as our tables come out, working with concrete (or any furniture) means some messiness, even with even the cleanest and greenest of methods. Fortunately, messiness can be inspirational at the right moments, and not so different than art. Sunsets and season changes transform a mess in different ways, as in the first two photos below, which are similar spots photographed at different times. Stained plastic, pallets caked with concrete, and invading ferns all make for beautiful catastrophes. Move aside leaves, there's a new inspiration in town.
Naturally, one might think making a mess means we aren't green or don't care about the environment. But consider that being green is often "messy," as in composting which is essential a pile of bio-filth, or "gross" by Western standards, like eating insects as a low-energy protein source. We take measures to occasionally take advantage of filth in an eco-friendly way, like building hand-made forms out of some shop waste or converting messiness into art, or reusing foam from packages inside of certain tables to lighten them and increase their strength instead of throwing it away.
We'll not pretend we're perfect with our practices, and the production of concrete itself has many issues, but we strive to minimize our waste while still taking advantage of it when it appears. Developing an aesthetic for filth might allow artists to produce artwork through recycling of waste that might otherwise end up in landfills. It's an impossibly immense task for artists to convert all of the trash in the world into art, but even a small amount of trash-to-art conversion means a cleaner, more beautiful planet.
Concrete Agave Leaves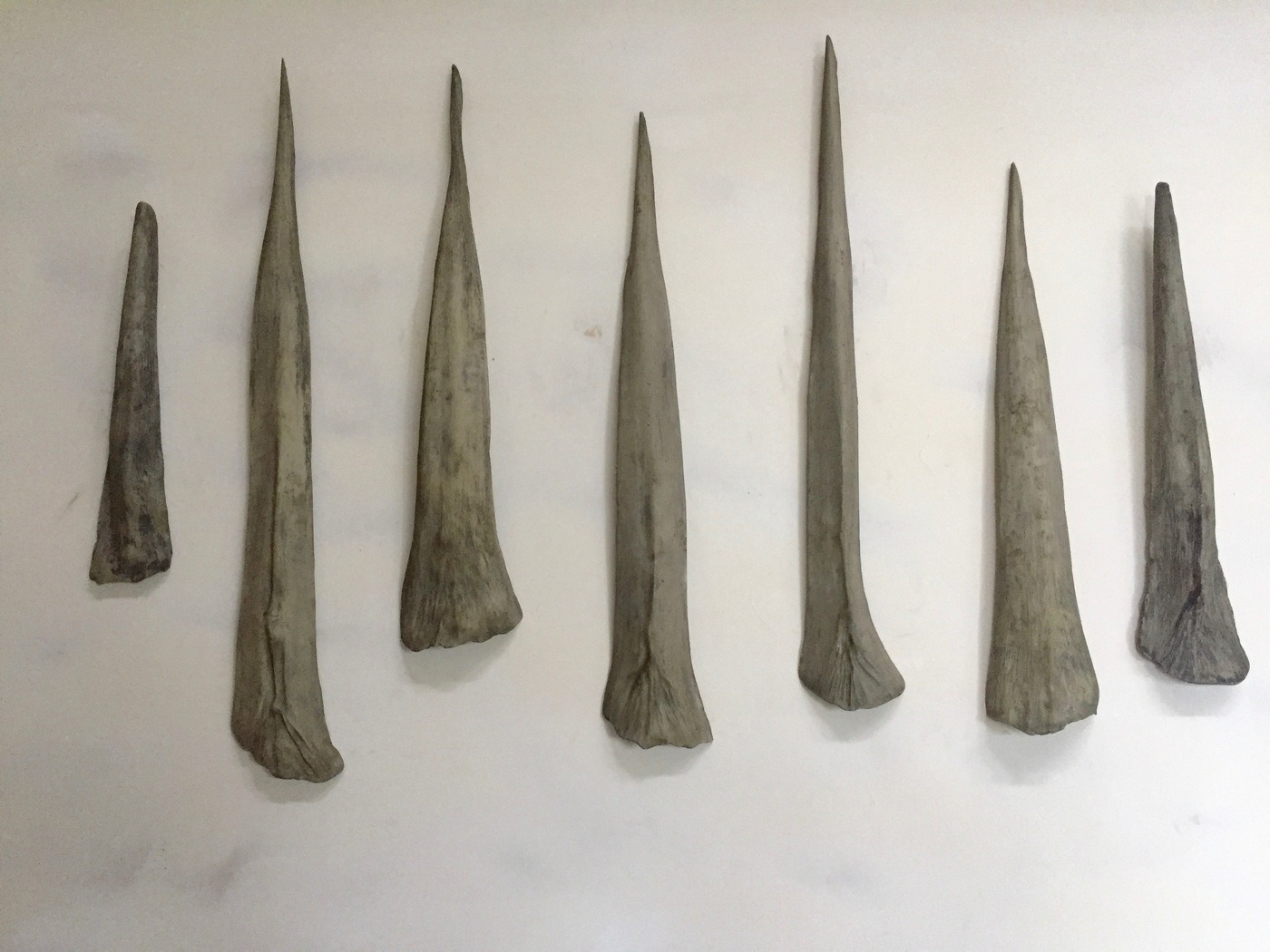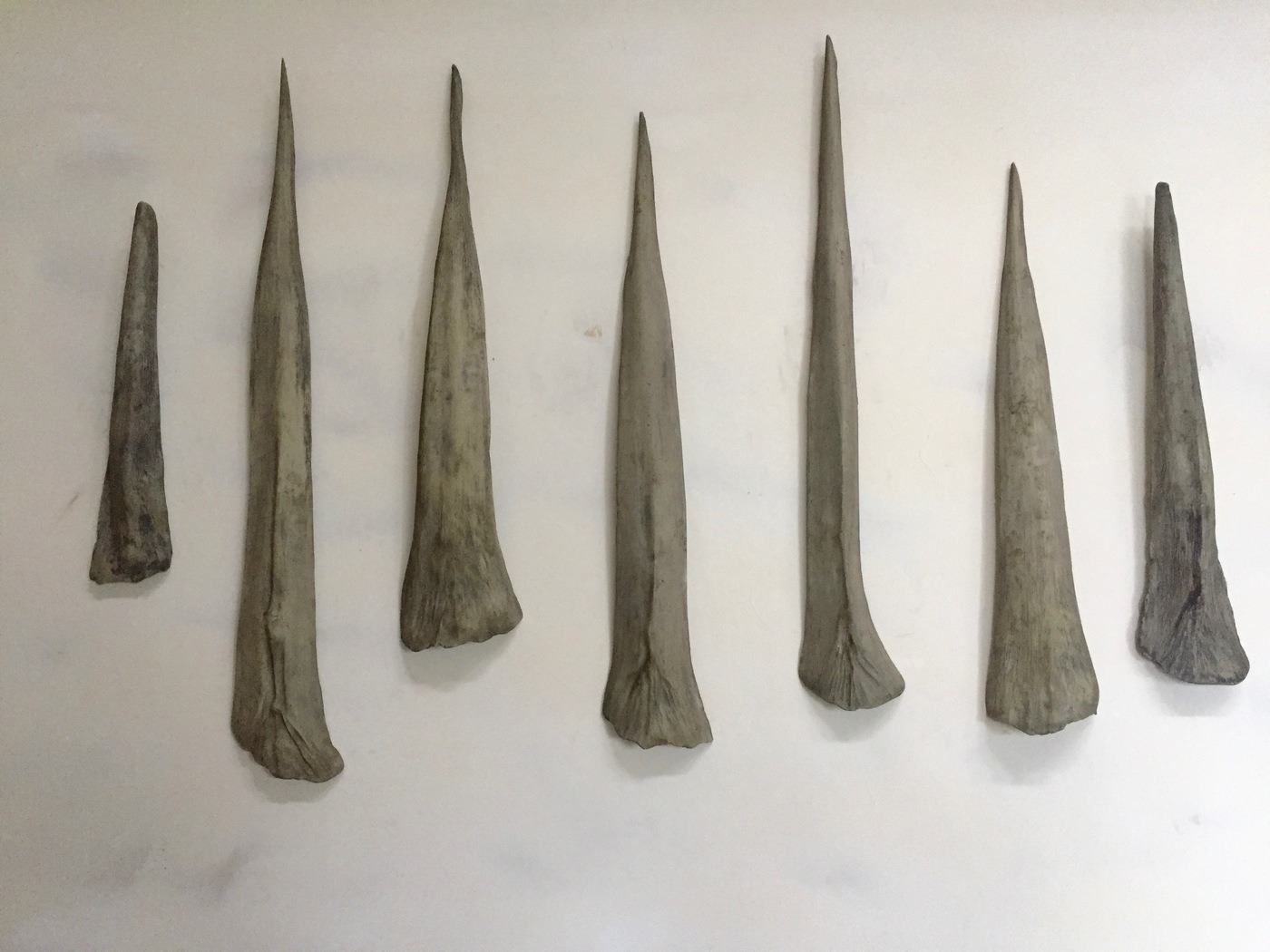 Recently an old Agave plant began to flower at The Gardener, who we've worked with for almost twenty years. Like many plants, Agave dies when it flowers, so we have begun to preserve the leaves as concrete forms before they rot away. We'll cast various stages of decomposition as the Agave completely dies away, letting it survive, in a way, for potentially hundreds of years.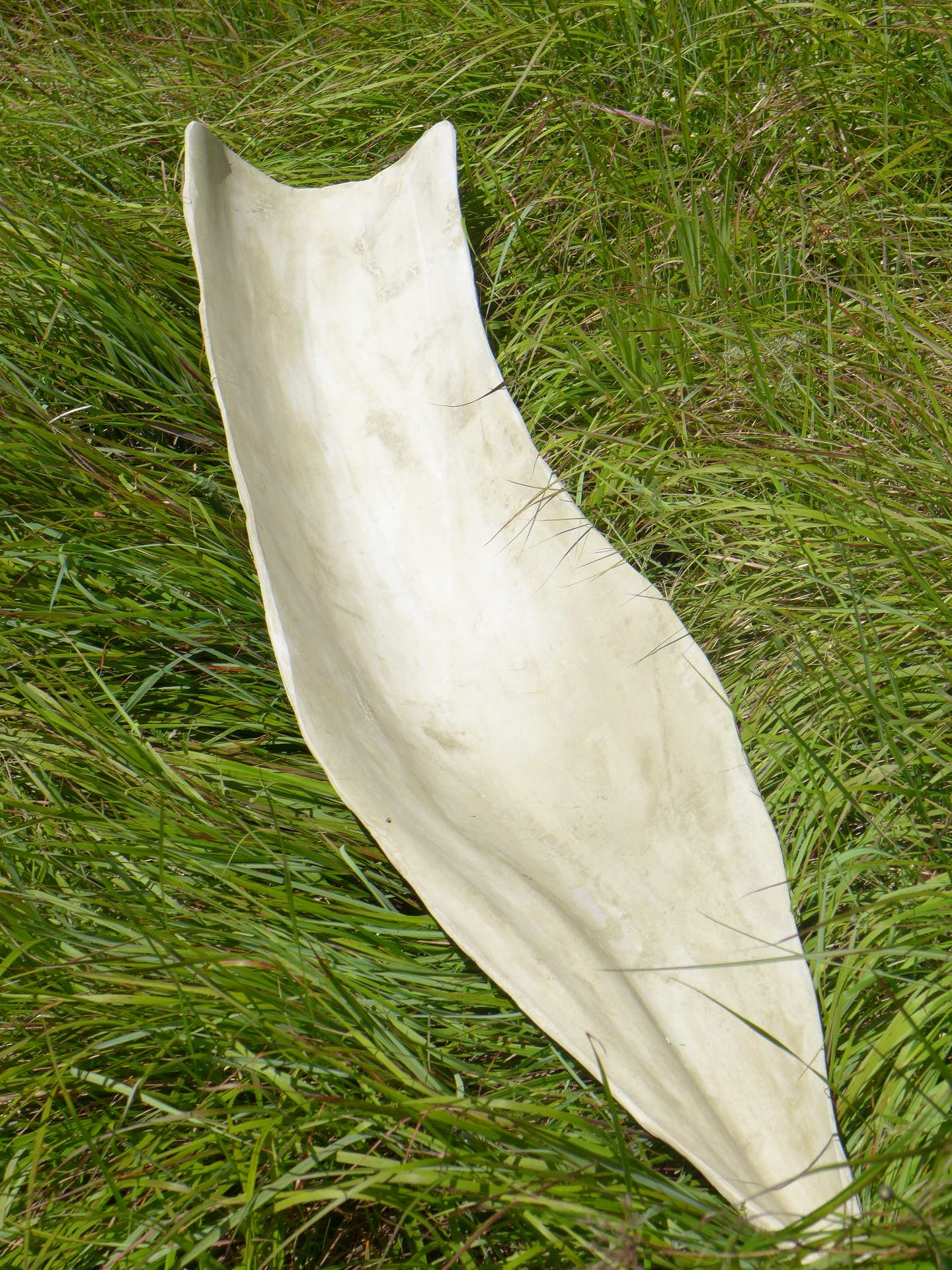 You can see these concrete agave leaves at The Gardener location in Healdsburg in Sonoma County. These concrete leaves can be used as bird baths, fruit baskets, or placed in gardens or installed on walls for art or even as shelves. This line of leaves may be a limited line of products if the leaves rot into unusable state, but they may last for some months. As a succulent, they are durable leaves, so each leaf will last for dozens of cast, unlike most leaves which will survive two casts at most.
Below is the very Agave these leaves were cast from. It lived and died at The Gardener's Healdsburg location. It took several months to flower, making one final display after a decade of life, transforming its leaves into sunset colors and dripping thick, sweet sap below.
Some Common Questions for Pamela Holmes
How long have you been making concrete furniture?
I started experimenting with plasters and concrete after I got out of graduate school in art. I took a class at the Pasadena City College on concrete, which I flunked. I found it too technical, but I still kept on playing with concrete artistically. I've been playing with concrete since 1984 and I started Holmes Wilson Tables about ten years later in 1995. I became interested in furniture after my experiences with catering, when I found that the tables I displayed food on were dull and lifeless.
What motivated you to start making furniture?

Since the beginning I have always asked myself: would I want to live with this table? Would I want to eat off of it, socialize around it, raise my family around it?  When catering I saw the importance of tables in many people's lives. The table represents gathering, and it is the focal point of families and human interaction. We wondered then: why do so many tables lack presence? Maybe we could change that, if just a little.
What is your process?
Without revealing many trade secrets, I design, cast, finish and seal tables. I pick the leaves from my garden and decide how to cast with them. I use a product that reduces the amount of concrete required by around 30%, makes the table stronger, and certifies my tables as green. The tables are triple sealed, oiled, and waxed to protect the table from stains.
What is your favorite part of the process?
I'm a plant fanatic. I love growing any kind of plants and working with them in my business. I develop a relationship with the plants and leaves while I fossilize their leaves. I never cease to marvel at how unique each leaf and table are, and I continue to be satisfied with my products.
How did you come up with the idea to imprint leaves into the concrete furniture?
I grew up in gardens. My mother had a magnificent garden. In high school, Anya Fisher was my art teacher every year. For the first year, we drew sticks.  The next year we drew leaves. Then we drew fruit and vegetables for a year, and finally we drew rotting fruit and vegetables. Anya taught me how to see nature, the artistic depths of biology. In 1984, I was trying to make a fruit tree planter and I put pears in the mold where I was casting the concrete. I played with all kinds of natural elements like woodchips and hay, and found out what and worked what didn't. I found flatter materials worked better, and leaves are probably the flattest thing in nature there is. I thought about using moth wings, but those aren't that easy to come by.
What inspires you and your work?
Being curious. My tables are all experiments. How will the table end up? I never really know. Like nature. I have a vision for each table I make, but the subtle randomness of biology and mineral patterns often make it better than the vision.
Any comments about being a artist who makes furniture by hand?
It's a lot of work and it's not as romantic as it sounds. It has its moments: every time I make a good table, I'm satisfied. And when people return to me after purchasing a table ten years ago and tell me it's their favorite piece of furniture, I'm filled with a warm, fuzzy feeling!
How to Order a Holmes Wilson Table
1. Peruse the website for what you want or send us an email if you're not quite sure what you're looking for. See our work in stores like The Gardener and McGuire Furniture. Think about sizes, concrete colors, types of woods, and wood and steel finishes. Also consider if you want leaves in the concrete, and what kind.
2. Either fill out the contact forms on the product pages or email us directly. If you're interested in just concrete or just wood, email Pamela or Brad respectively. Please let us know where you intend the pieces to be shipped, and whether this is a commercial or residential location, because this will affect shipping costs.
3. We will review the order and discuss finishes, colors, pricing, and shipping quotes with you.
4. Once all the details have been agreed upon, we ask for a deposit of 50% of the cost (not including shipping) through a check. You may pay for 100% of the cost up front if you wish.
5. You pay the shipper directly, who will contact you when the piece is ready to deliver, except for any Agave Blades, or Pliny, Vessel,  Square, Chalice and Vase tables 20″ diameter or under, which have shipping prices listed on the product pages and will be sent via FedEx. You will pay any FedEx shipping with the deposit. If you're ordering over two tables, we will cross-reference with our shippers to determine if we can find a cheaper shipping method than FedEx.
6. When the piece(s) are ready to ship, we will contact you and ask for the remainder of the cost.
7. The piece will be shipped to and into your home and you'll get to enjoy your brand new furniture. Tables shipped with FedEx will arrive in boxes.
The Realities of Raw Creation
People often ask how the concrete is made, and especially how we get our leaves into the concrete. While we can't reveal too many proprietary secrets, we'll give you a little description: it's tough and dirty. Pamela has a small greenhouse set up, as you can see below, where she casts, grinds, and finishes the pieces. You may also witness her fancy attire that she dons to protect herself from the grueling aspects of the craft. Many a piece of clothing has been irreparably tarnished by concrete. The cold months are especially difficult to make furniture in, as the dexterity required does not allow for warm gloves and the concrete is so very frigid.
That's not to say it's all bad: the monotonous labor affords many hours of contemplation for Pamela's artistic and intellectual endeavors; she gets to choose her hours (to some extent); she gets to live out in the beautiful Redwoods of Cazadero and frolic on the beaches and trails when not working; and of course, most of all, she creates beautiful pieces of furniture as a result of this labor. She would much rather be paid to make artistic cubes than to do office work in a cube — that's her motto.
A Welcome to Holmes Wilson: The Organics of our Furniture
Hello and welcome to Holmes Wilson Tables. We have recently migrated over to a new web design which we hope will enlighten your browsing and purchasing experience. We have always taken our web presence very seriously and so have tried to make it an intuitive, aesthetic process. Please browse our products and contact us for any questions or inquiries. Note that you can click the image of each product to see more pictures and a longer description.
In this blog, we will post pictures of our latest designs, available products, and Holmes Wilson philosophies and interests. One philosophy central to our business is the desire to incorporate the natural world into our work. Every one of our tables has a story and personality; their infinite variation never fails to excite us. Organic elements are beautiful, stochastic fractals — random patterns determined both by mathematics and the life of the organism. Life has visual textures, multidimensional nature, and vivid colors that all let the eyes rest easy.
We incorporate earth and life elements in several ways: Brad carves up beautiful chunks of wood into table bases or standalone pieces. The different knots, gnarls, twists, wisdom, and experiences of each tree all show their face when the polished wood is naked of its bark. Wood is easily malleable, but practiced hands can make its story shine. Even in death, the trunks of many great trees live on as powerful but elegant tables which can be handed down for generations. As the wood dries, it grows lighter; every year an inch deeper into the core is dry and the table is a few pounds lighter. Brad often works with the Redwoods of his own property and reclaimed wood from other local properties, as pictured on the right.
Pamela's concrete is a sleek, modern, and more 'manmade' contrast to the rawness of wood, although it has great beauty and earthiness as well. The concrete, aggregates, and pigments we use all ultimately come from the earth. Different combinations of these natural substances can lead to an incredible range of color and consistency (although we ensure the concrete is always pleasantly smooth to the touch with various techniques practiced over the years). Pamela also embeds freshly picked leaves from her garden into the concrete to imprint the complex, fractal veins, her artistic signature. We are essentially quickening the fossilization process to overnight! All leaves, even ones from the same plant, have different patterns of veins and subtle textures that concrete captures brilliantly. The imprint can be filled with more concrete of any color to make a pristine, smooth finish, or left empty and raw for the more adventurous spirit, as seen left.
If you enjoy nature and organic substance, you should consider how our work would decorate your home or garden. Earth tones and natural shapes can enhance a living space enormously by appealing to our evolutionary desire for nature. The contoured but solid lines of the concrete, on the other hand, imbue strength and structure to the scene. We are proud of our ability to juxtapose these two different aesthetic factors in unique and pleasing ways.